PBSGL during the pandemic
PBSGL during the pandemic
PBSGL during the pandemic

`
03/12/2020
The word unprecedented has been used more in the last 6 months that in the decades before. Exceptional measures have been taken in many sectors including political, economical, healthcare, education, and, not least, in our own homes and communities.
Exceptional measures have also been taken by the PBSGL team (comprising Administrators, Managers, GPs, Practice Nurses and Pharmacists) to ensure the ongoing provision of new and improved modules to the membership.
Working, unusually distant from one another, at kitchen tables and makeshift home offices, to support the process of module development, the team have co-ordinated author recruitment, discussion groups, topic research, module writing and expert review before finally publishing the new modules.
The authors are jobbing GPs, Practice Nurses and Pharmacists, all juggling writing and production responsibilities with the ever-changing and relentless challenges of working in the healthcare sector during a pandemic.
It's astonishing then, to consider that the PBSGL team have managed to produce 8 new modules (see below), compared with 10 during the same period last year, in pre-covid times (remember them?).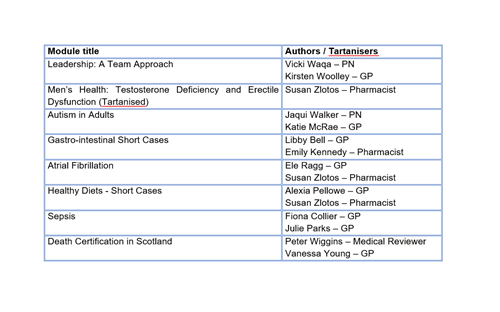 There has also been a complete, and swift, redesign of the Facilitator Training to ensure that the demand for this continues to be met. The usual full day workshop was re-imagined, a new bespoke online training module was created, and prospective facilitators were then accommodated at an online training session. There they had the opportunity to practice facilitation skills with a peer group and receive personalized feedback. A total of 67 new facilitators were trained during lockdown!
PBSGL groups too have adapted and responded to the challenges of isolation and social distancing by taking their groups online. Here they found connection, compassionate ears who listened in solidarity (and raised a glass of wine!) whilst also deepening their knowledge of the topic they had chosen to study. They shared practical solutions triggered by new ways of working and reflected on the positives as well as negatives of this. In recent times, more than ever, PBSGL has served as a vehicle for connectedness, peer support and professional development.
Feedback from members testifies to this. When asked what they liked about PBSGL, a member replied
"Camaraderie, respect and support, openness and honesty in discussions. Shared/new ideas. Meeting with a wider network. Fun way to update/learn".
Regarding meeting online one member stated
"[We] Wanted to do some CPD to update our knowledge of non-COVID related things. Also relatively new group of multi-disciplinary clinicians (ANPs, GPs, paramedics) so good to share knowledge across the group."
 PBSGL online meetings became particularly positive in certain circumstances
"We wanted to keep meeting and learn about something non covid related. One of our group is shielding so that made it even more important to meet up"
 and
"….they may normally opt out of this session but because they can be at home with their children, they were able to join in with the odd interruption which was fine and meant to we could still continue and it was lovely just to see how they could incorporate this into life"
Reflecting as a newcomer, it's not difficult to be impressed by the achievements of this team, a spirited "bunch of bananas", who should be congratulated for their commitment, fortitude and creativity during, what we can universally agree, has been an unprecedented time.